Tamaris Aquaparc est ouvert tous les jours de 10h à 18h30
Tamaris Aquaparc is the kingdom of water and its pleasures : 10,000 m2 of a spick and span water amid 7,5 hectares of lush vegetation.
The waves pool, the slow river, the kids' paradise and much more unique slides, from the smoothest to the craziest unique rides in Morocco; Tamaris Aquaparc is the one-stop leisure capital of Casablanca.
Route d'Azemmour Km 15, Casablanca, Maroc
05 22 96 53 69 / 70
05 22 96 53 58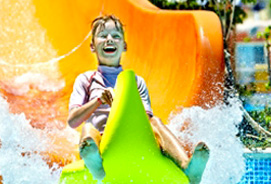 Green Rides
The green slides are perfect for all the family to warm up, catch up your breathe or simply have fun!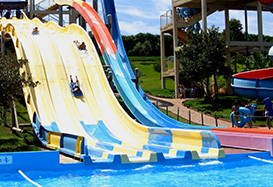 Red Rides
Do you want to experience total freedom? Twin Twister, Niagara, Grand Prix and Grand Bleu are breathtaking !
Black Rides
strong and brave people, be ready : the black slip will shake you ! Kami- Kaze , Boomerang and the new Cannon Bowl are so massive!